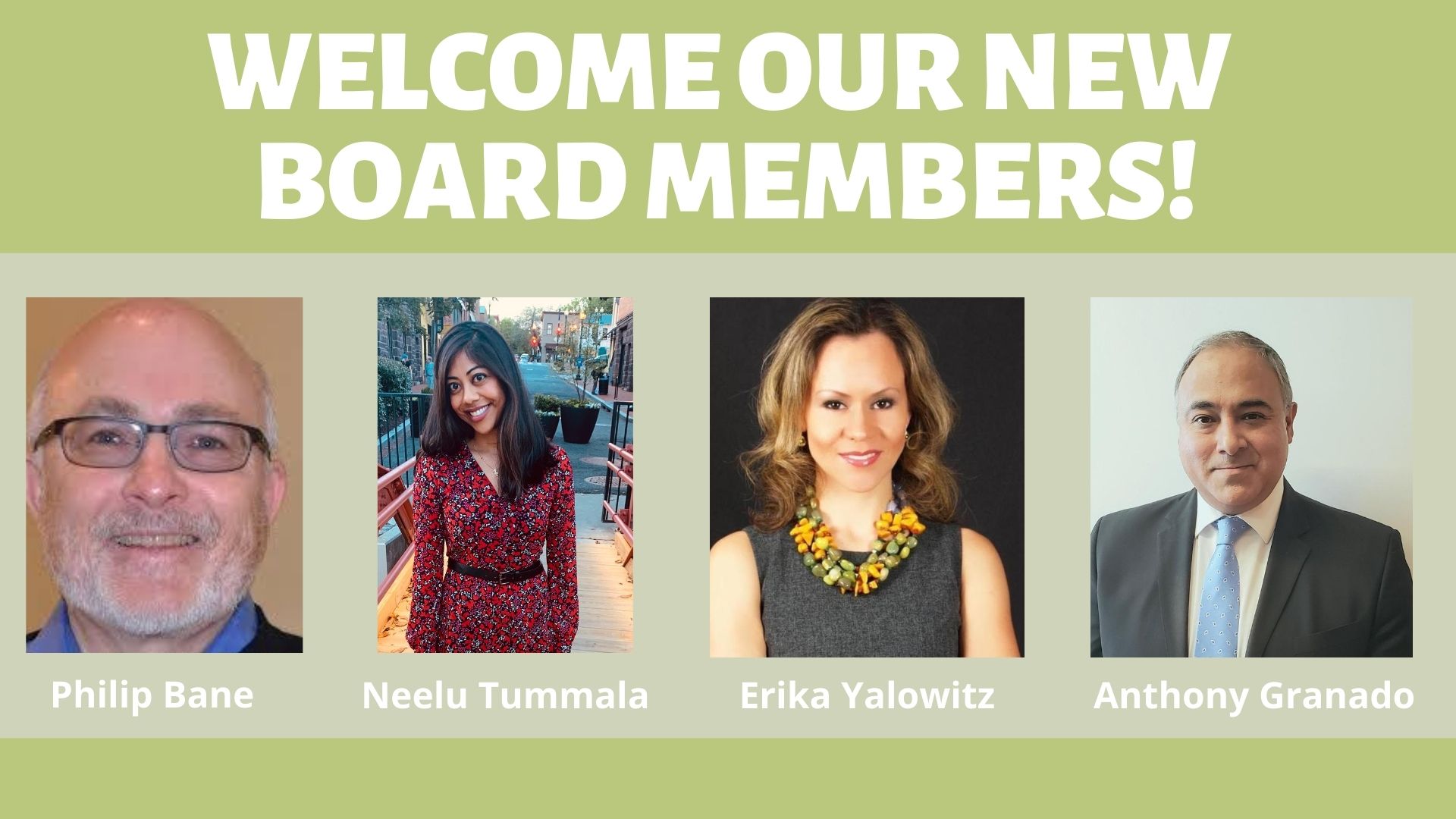 Introducing Our Newest Board Members
We are pleased to announce the appointment of Philip Bane, Anthony Granado, Dr. Neelu Tammala, and Erika Yalowitz to our Board of Directors. This addition increases FACS' board to 13 members; expands our capacity to carry out our mission at a critical time for our planet, and brings a wealth of knowledge, experience and diversity to FACS.
Read the full press release here.
The Fifth Annual Virginia Climate Crisis Forum
The energy inefficiency of housing in Virginia is a social justice issue. Low-income homeowners and renters, including African American, LatinX and other front-line households, pay more for utilities per square foot than does the average homeowner. Energy inefficient housing also unnecessarily contributes to greenhouse gas (GHG) pollution. Join us on Tuesday, September 22nd to explore these topics with a panel of leaders to discuss policy solutions and programs for Virginians.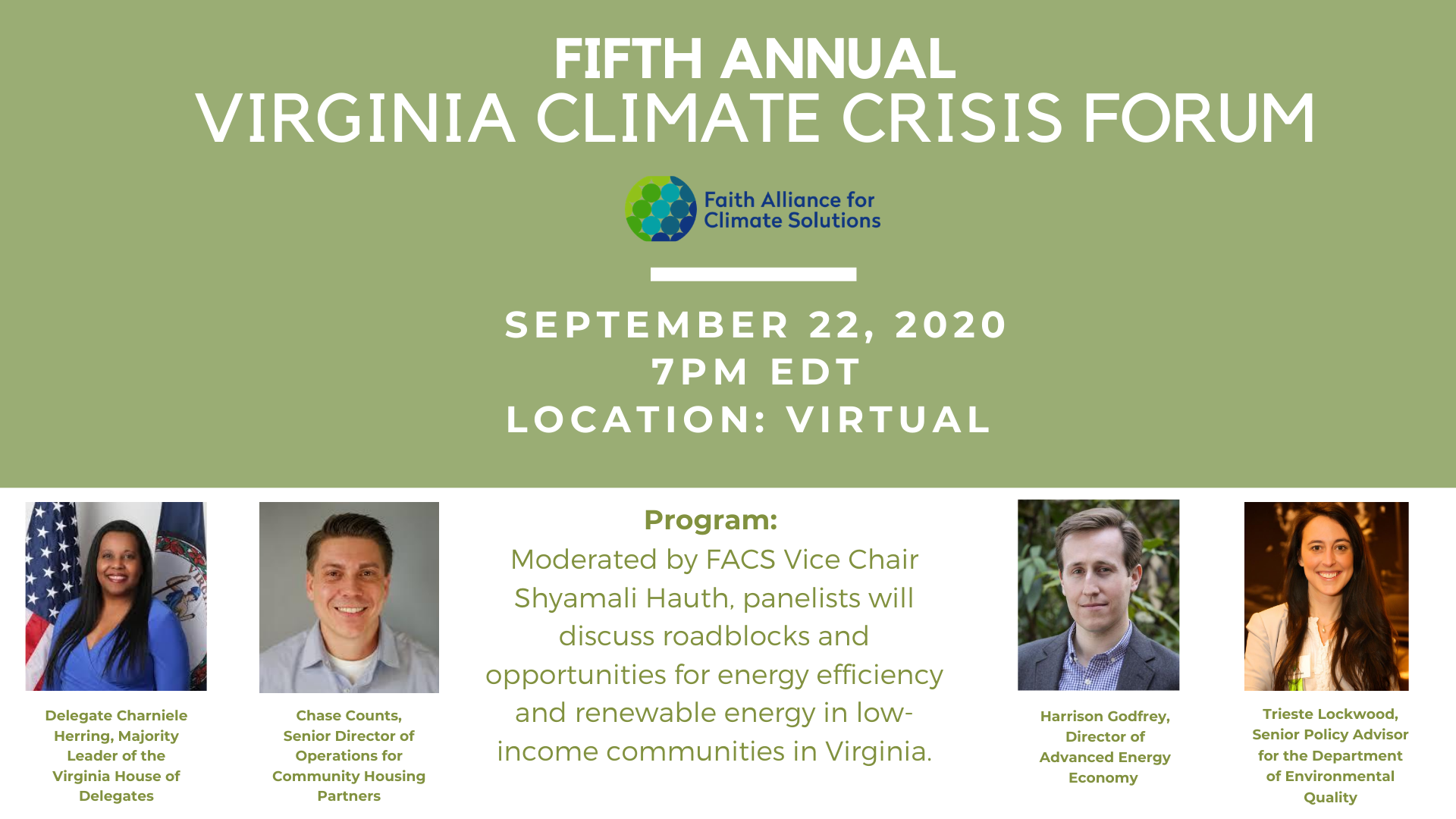 2020 Advocacy Training
September 9, 1:00 p.m.
Register for our Advocacy Training to learn:
Why local action on climate change is important and why is it critical for the faith community to engage in advocacy
Roles and Responsibilities of the FACS Advocacy Team Members
Best practices for meeting with elected officials, from preparation to roles to follow up and more!
Other advocacy methods and tips
Who should attend?
Anyone new to FACS and/or interested in learning about the FACS advocacy model
Individuals that are familiar the FACS advocacy model but haven't yet participated in a training
Pros that are looking for a refresher
All are welcome to participate to connect and get to know one another!

Climate in the Pulpits
Interested in learning more about this program? Tune in this Thursday, September 3rd at 11:00 a.m. for a live broadcast. Watch live from the Virginia Interfaith Power and Light Facebook page.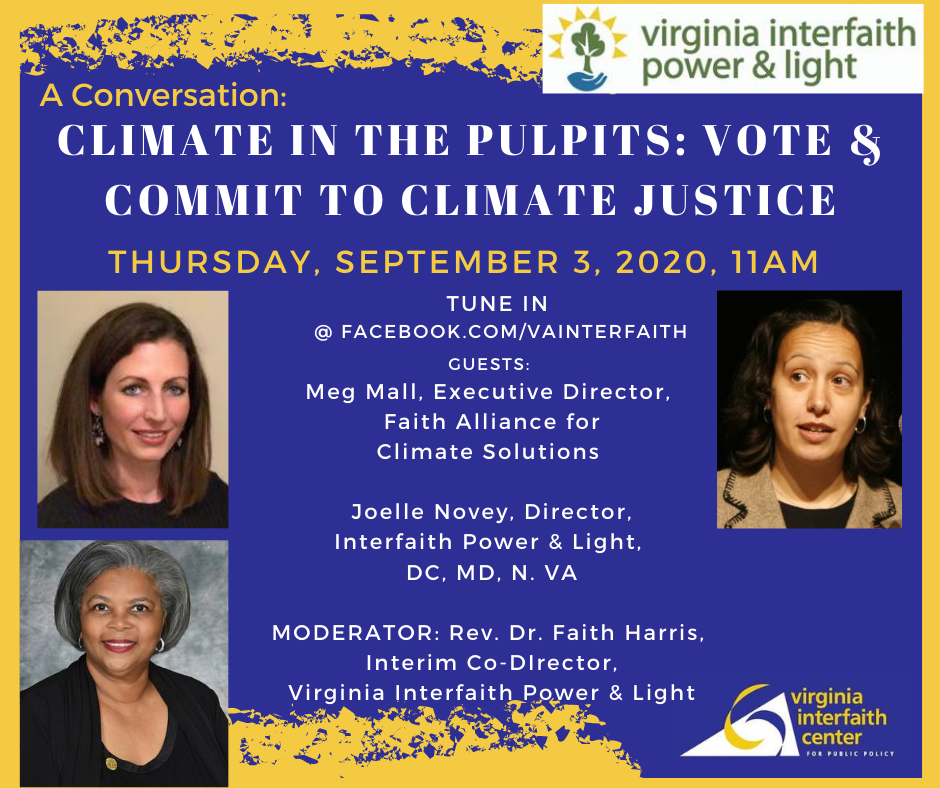 This fall, through a partnership between Interfaith Power & Light (DC.MD.NoVA), Faith Alliance for Climate Solutions, and Virginia Interfaith Power & Light, pastors, rabbis, imams, and other clergy in faith communities across the region will be raising up voting as part of their sermons at weekly services and through other learning programs.

"Each of us have a moral responsibility" to vote, Rev. Dr. Martin Luther King preached in 1964. "I come here to urge every person, under the sound of my voice, to go to the polls on the 3rd of November, and vote your convictions."

Faith communities are invited to participate on or around the weekend of October 2-4, 2020, when Jewish congregations will be marking the ecological holiday of Sukkot, and some Christian churches will be celebrating the Feast of St. Francis, patron saint of animals and the natural world.


Community-Wide Energy and Climate Action Plan
Fairfax County is developing a Community-wide Energy and Climate Action Plan (CECAP) - something FACS advocated strongly for - and our faith-based representation is needed to ensure an equitable, aggressive plan! The county is convening a series of public engagement sessions and collecting feedback via a survey over the next month. Information gathered in the public meeting will be provided to the Task Force for consideration as they work to define emission reduction goals and implementation plans for Fairfax County.
CECAP is a climate mitigation plan developed by Fairfax County residents and stakeholders. While decisions about the plan will ultimately be made by a Task Force composed of several dozen representatives of community organizations, local businesses, and associations, the Task Force needs the input of county residents and workers to inform their conversation.
Please sign up for one of the meetings, and take the survey! We want them to hear from FACS in great numbers!
The remaining public meeting dates and times are as follows:
Tuesday, September 1, 2020: 10:00 AM - 12:00 PM
Wednesday, September 2, 2020: 7:00 - 9:00 PM
Take the survey, which is available in English, Spanish, Korean and Vietnamese. The survey is open through September 13.
Participate in the Plastic Bag Recycling Program!
We invite our faith communities to participate in the Plastic Bag Recycling Program! Participating communities will have 6 months to collect and recycle 500 pounds of plastic bags and film. Groups must weigh their collected plastic and report their monthly totals. At the end of the 6 months the plastic must be delivered to a participating retailer.
Items that can be recycled include all the following:
Grocery, bread, dry-cleaning bags
Case overwrap
Newspaper sleeves
Ice bags, wood pellet bags
Ziploc and other re-closable bags
Produce Bags
Bubble Wrap
Salt Bags
Cereal box liner
Due to the pandemic, plastic bag usage has increased. Is your faith community still holding services virtually? No problem. Share about the program in your e-newsletter, create a convenient drop off location, and designate a team to collect, weigh and drop off the bags. Access the Plastic Bag Recycling Guide here and view our infographic for more information. Interested in rolling out a program at your faith community? Let us know!
On August 19th, 2020 the Church of the Holy Comforter became the first House of worship to
be certified as meeting the Town of Vienna's Sustainability Challenge. To be certified an organization must earn at least 60 points across five categories: reducing building energy consumption, lowering water use, reducing product waste, adopting more earth friendly transportation practices, and adapting more sustainable purchasing practices. Holy Comforter achieved 65 points by adopting practices including at
least one in each of the five categories.
Among the many steps taken were:
Installing motion sensors to turn off lights in rooms not in use
Replacing inefficient light bulbs with LEDs
Replacing inefficient bathroom fixtures with low flow models
Using recycled printer/copier paper
Replacing Styrofoam products with compostable ones.
Holy Comforter has committed to goals of reducing its greenhouse gas emissions by 50 percent by 2030 and achieving net zero status by 2050.
Learn more about The Town of Vienna's Sustainability Challenge.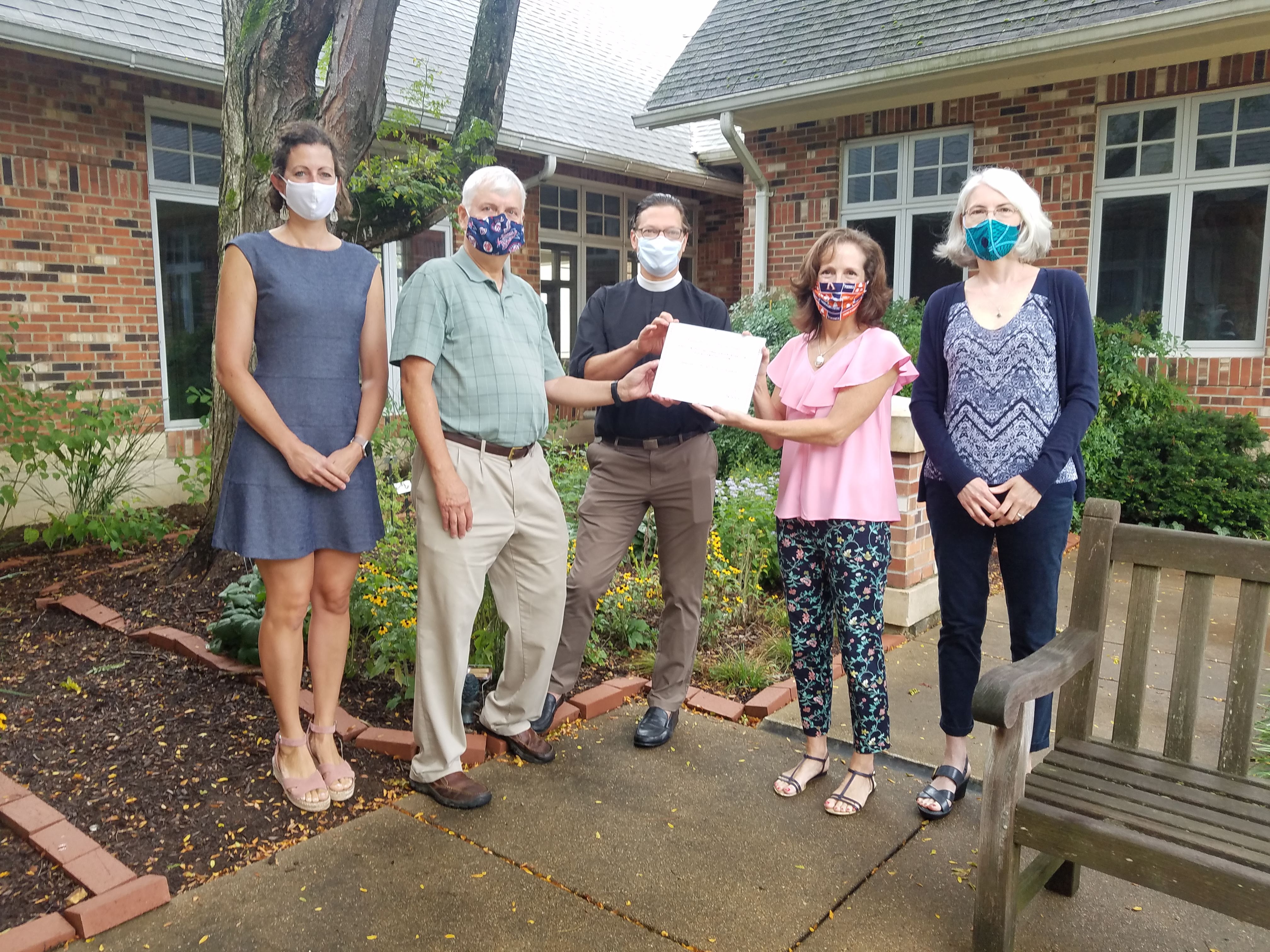 Faith Alliance for Climate Solutions
PO Box 2012 | Reston, Virginia 20195
703-239-3748 | info@faithforclimate.org