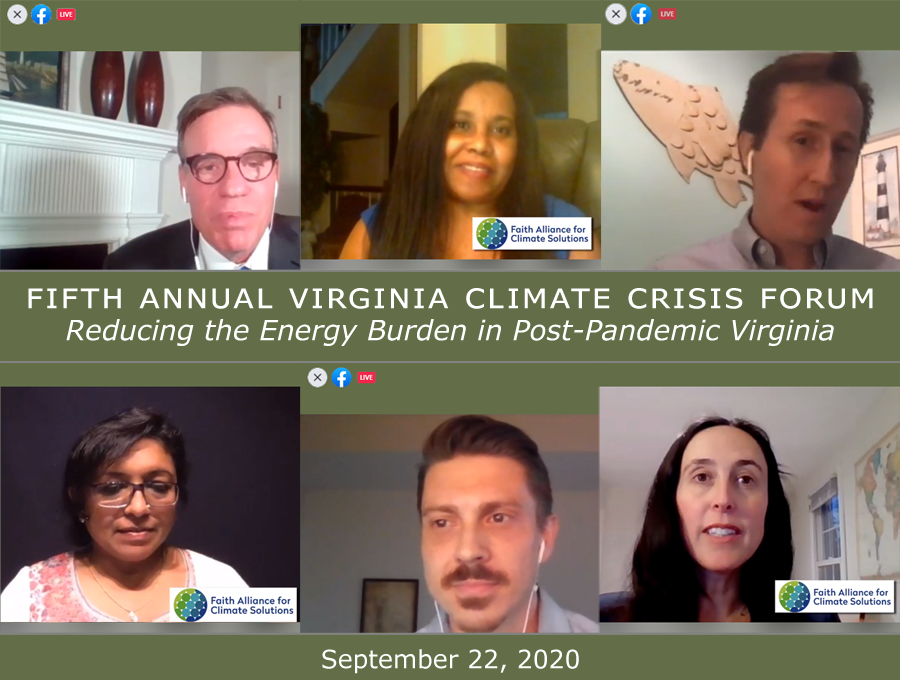 Fifth Annual Climate Crisis Forum
Thank you to everyone that tuned in to our 5th Annual Virginia Climate Crisis Forum on Tuesday, September 22nd. Missed viewing the program? Watch it now. A special thank you to all of our panelists and guests including Senator Mark Warner, Majority Leader Delegate Herring, Trieste Lockwood, Harry Godfrey, Chase Counts and our Moderator Shyamali Hauth. Our work continues as we advocate for decreasing the energy burden in low-income housing. See pp. 2-4 in our 2021 Advocacy Priorities E-book.
Climate in the Pulpits: Vote & Commit to Climate Justice
This fall, through a partnership between Interfaith Power & Light (DC.MD.NoVA), Faith Alliance for Climate Solutions, and Virginia Interfaith Power & Light, pastors, rabbis, imams, and other clergy in faith communities across the region will be raising up voting as part of their sermons at weekly services and through other learning programs. Faith communities are invited to participate on or around the weekend of October 2-4, 2020. To learn more, find resources, and sign up click here.
Looking for a way to participate? There's still time! Consider sharing our Pledge to Vote Your Values with your faith community.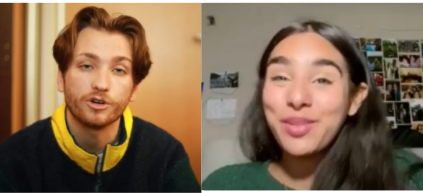 Watch and/or share with your faith community this inspiring video from our friends at the Greater Good Institute (GGI). Tarina Ahuja and Adam Ashley, GGI's co-founders, discuss the importance of voting, their commitment to environmental policies to address the climate crisis, and intergenerational collaboration for sustainable and dynamic change.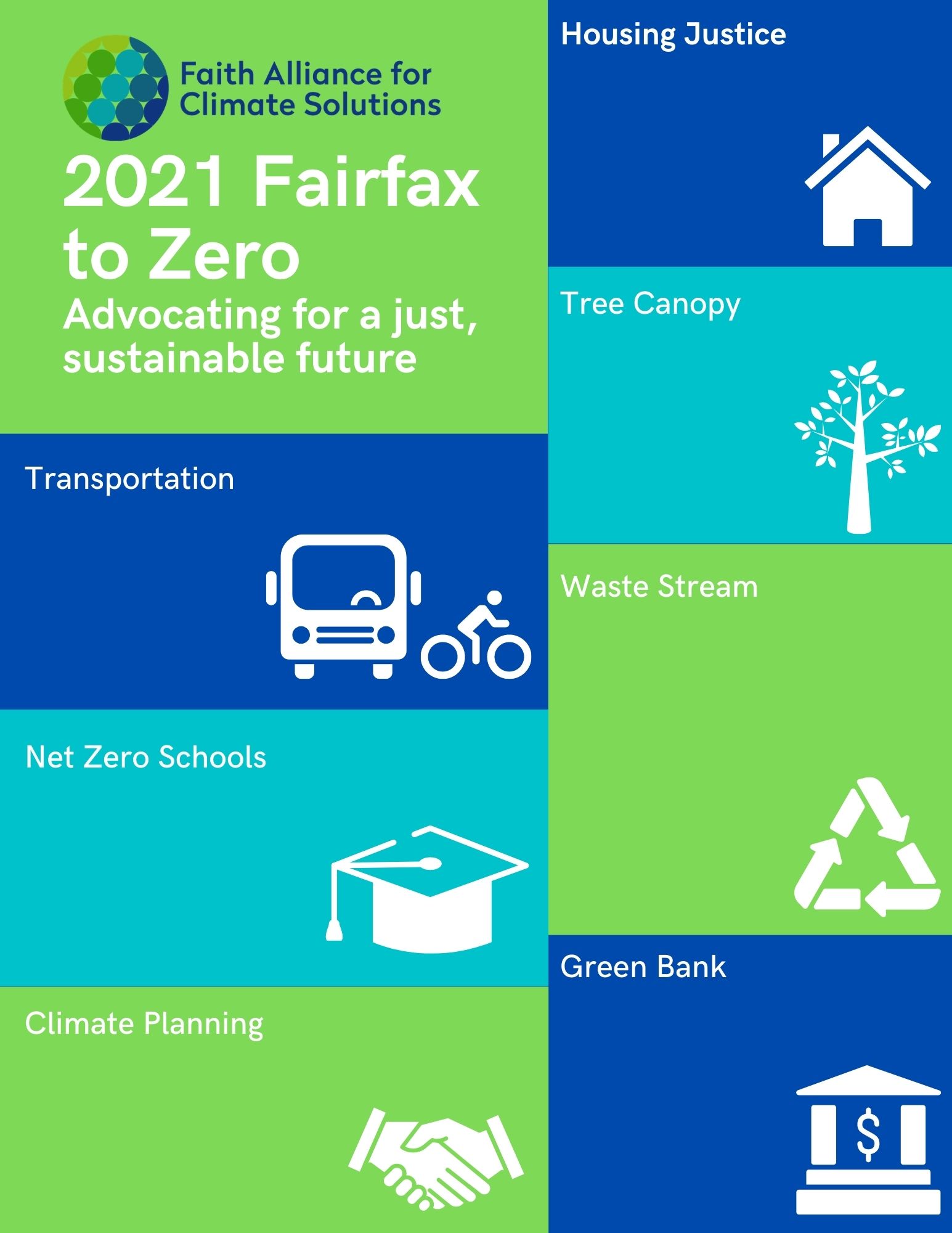 2021 Fairfax to Zero Advocacy Priorities E-book
This 32-page booklet lays out our 11 top advocacy priorities for the county, our public schools, and the state. We organize advocacy teams in Fairfax County, Arlington County, and the City of Alexandria. Advocacy priorities include:
Decreasing the Energy Burden for Low-Income Housing
Reducing the Waste Stream
Protecting and Increasing Our Tree Canopy
Modernizing Our Building Codes
Transitioning to Clean and Equitable Transportation
Accelerating EV Adoption
Converting to Electric School Buses
Attaining Net-Zero Schools
Creating a Strong Climate Resilience Plan
Establishing a Green Bank
Breaking Down Barriers to Small-Scale Solar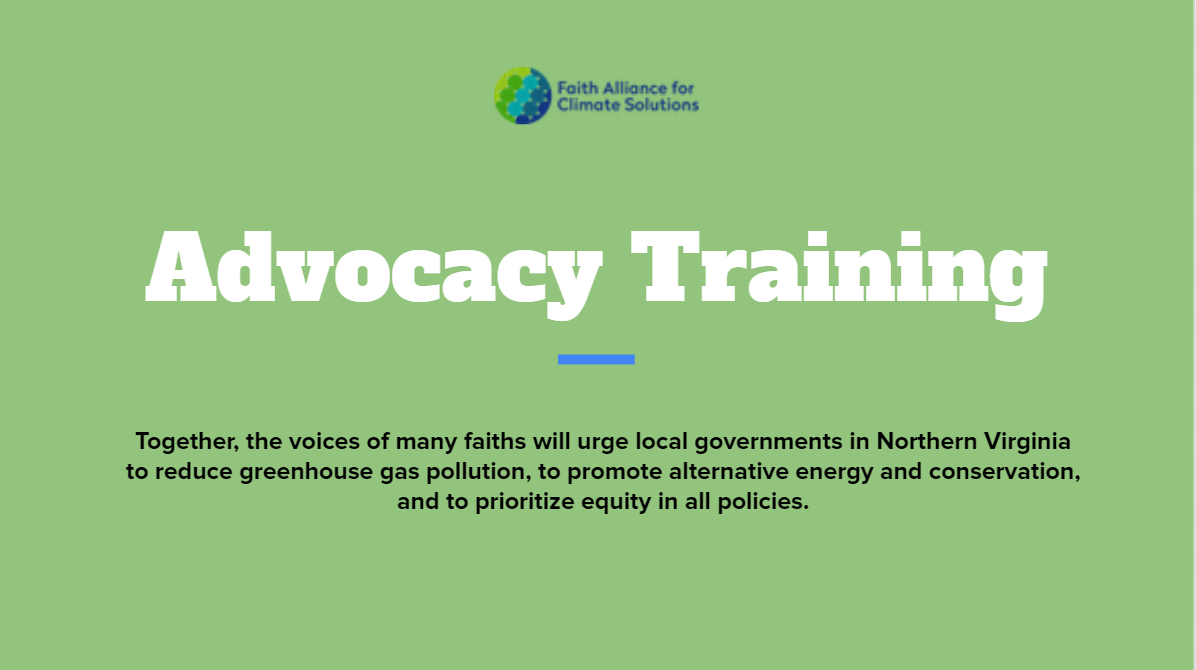 2020 FACS Advocacy Training
Did you miss the advocacy training last month? Watch it here! Learn how FACS advocacy teams work, how we structure our meetings, and why local action on the climate crisis is so important. New advocacy team members are always welcome!
Fairfax County Funds Climate Adaptation and Resiliency Plan
At the September 29th Fairfax County Board of Supervisors meeting, $1 million was approved through the use of FY2021 carryover funding in support of the Climate Adaptation and Resiliency Plan (CARP). The CARP will address direct climate impacts to Fairfax County, including higher temperatures and heat waves, colder temperatures, blizzards, superstorms, changes to precipitation patterns or events, flooding (coastal, tidal, riverine, and inland) and sea level rise. The plan will examine how county government, utilities and authorities, businesses and residents can prepare for these impacts as they grow more intense and frequent over time.
.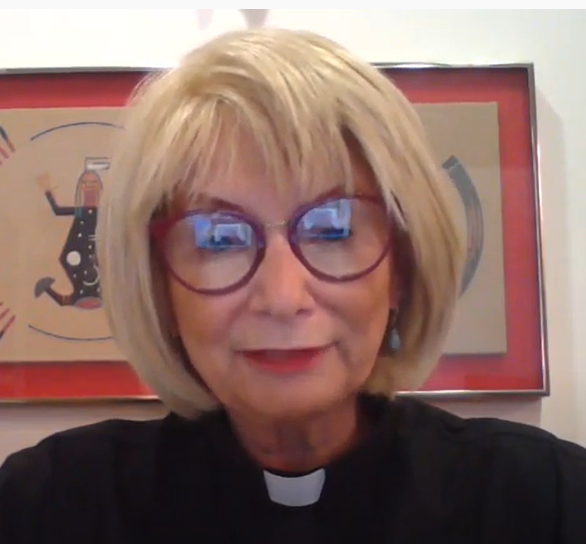 Listen to Rev Jean Wright's, FACS Co-Chair, testimony in support of funding the CARP.
"CECAP, the Community-Wide Energy and Climate Action Plan, though essential, is NOT a CARP. It is a carbon reduction plan. Mr. Kambiz Agazi, Director of the Office of Environmental and Energy Coordination shared, in his June presentation to the Environmental Committee that CECAP is only part of the answer. The other part is the proposed CARP that will, he said, "..respond to and recover from climate disruptions and prepare for anticipated hazards." "
Fairfax County Office of Environment and Energy Updates
At the Fairfax County Board of Supervisors meeting, the board also approved in its carryover budget funding of the following initiatives: $4.5 million for the County Operational Energy Strategy, $1.8 million for the LED program, and $.75 million for electric vehicles. The CECAP Task Force met on September 30th to vote on goals. FACS has advocated for a carbon neutrality goal plus and absolute carbon reduction goal. The next meeting of the Environment Committee will be held on Tuesday, October 27th at 11:00 a.m.
Plastic Free Challenge
From October 1 to 30, avoid single-use plastic—especially plastic bags, bottles, and straws. FACS joins with 350.org Fairfax and others across NOVA to reduce our plastic footprint and protect our waterways and wildlife. Enroll today! Here's what you can do:
Enroll in the Plastic Free Challenge (October 1–30).
Commit to reducing your use of single-use plastic bottles, bags, and straws.
Participate in the weekly virtual actions and share them with your friends and family.
Look for weekly emails with motivational stories, tips, and ideas.
Track your success and recruit family and friends to join you on your plastic-free adventure.
Spread the word that reusable is doable during the pandemic using the hashtag #PlasticFreeDMV.
Want to learn more about what the faith communities are doing to reduce their plastic and waste in general? Visit our resources page. And check out how you can participate in a plastic bag recycling program in our infographic.
Faith Alliance for Climate Solutions
PO Box 2012 | Reston, Virginia 20195
703-239-3748 | info@faithforclimate.org