FACS Receives Climate Reality's Justice for All Grant
The Climate Reality Project, a nonprofit organization founded by former Vice President Al Gore, awarded FACS with its Climate Justice for All grant. FACS was one of 16 organizations to receive the grant in its inaugural year. The Climate Reality Project is supporting FACS' plans over the next six months to promote energy efficiency in low income housing in Northern Virginia and throughout the Commonwealth using three complementary strategies: organizing public awareness, education leading to action and direct hands-on action. FACS' Fifth Annual Virginia Climate Crisis Forum: Reducing the Energy Burden in a Post-Pandemic Virginia, will be a two-hour, live state-wide webinar in late September. The forum will include a panel discussion on climate and energy justice issues, and a second panel on low income energy efficiency in Virginia and Northern Virginia. FACS will also conduct energy justice and energy efficiency volunteer trainings in which volunteers will learn how to make simple weatherization and energy efficiency repairs. Dependent on COVID-19 restrictions, the grant will also fund energy efficiency repairs in the homes of lower-income families in Northern Virginia.
The grant enabled 10 FACS activists to participate in the 2020 Global Leadership Corps training, which ran from July 18-July 26.
Welcome Sarrah Abbasi, FACS Community Organizer
Sarrah is a Project Manager for the Center of Disease and Control Prevention as well as the Veteran Affairs, managing Electronic Health Care Records. As a former President of United Mission Relief, volunteer for Penny Appeal, Islamic Relief, and UNICEF, mission-based work has always been a focal point in her life. She is an active part of the Northern Virginia Muslim community, including leading the youth program at her local mosque, and is an advocate of climate change. Sarrah graduated from George Mason University in January 2018 with a Bachelor of Humanities– Global Affairs. Sarrah brings her creativity, organizational management, and community connections, as a lifelong resident of Fairfax County, to the role. As Community Organizer, Sarrah will be responsible for building the capacity of FACS' network of 75 faith communities to deepen their commitment to sustainability and justice, establishing relationships with new faith communities, and connecting those communities to all of FACS' programs. You may reach Sarrah at sarrah@faithforclimate.org.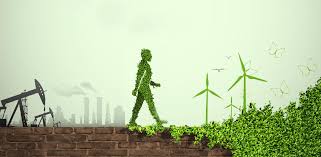 CECAP Task Force Votes for a 2050 Carbon Neutral Goal!
On July 29, in a virtual meeting of Fairfax County's Community-Wide Energy and Climate Plan (CECAP) task force, participating members voted for a 2050 goal of Carbon Neutrality. Two weaker alternatives, for 80% and 87% reduction from base year 2005, were voted down.
Carbon Neutral, synonymous with Net Zero, refers to achieving Net Zero Emissions by balancing carbon released with an equivalent amount sequestered or offset through carbon credits.
If the vote is upheld in September, it will mean that Fairfax County will join Arlington County, VA, Washington, DC, Montgomery County, MD, Frederick County, MD and Albemarle County, VA with a tough, climate goal. The 2050 Carbon Neutral goal will serve as a north star as CECAP is created over the next year. In a separate vote, the task force members agreed that the plan should include an interim goal of 2030.
Fairfax County will organize an online survey in which the community can comment on these goals in August. Stay tuned to find out when and how you can support these goals!
Fairfax County Board of Supervisors Reveals Fairfax Green Initiatives #2
At the July 28th Fairfax County Board of Supervisors meeting, the board approved the Fairfax Green Initiatives #2 (FGI #2) Board Matter. Fairfax Green Initiatives #2 is a follow-on motion to the original Fairfax Green Initiatives package adopted on Feb. 5, 2019. Mt. Vernon District Supervisor and Chair of the Environment Committee Dan Storck wrote about the action, "Even in the midst of the COVID-19 pandemic, my colleagues and I acknowledge the need to continue our environmental efforts. While COVID-19 is severely impacting us all, predictions indicate the climate crisis will be worse if not addressed quickly. FGI #2 shows the Board's strong commitment to doing just this." A key highlight from the Board Matter is the County's commitment to purchasing electric vehicles for 100% of eligible replacement fleet vehicles in FY 2021 and to propose a plan for accelerating all future purchases to electric vehicles. Additional actions include researching the creation of a compost program for the Fairfax community and the feasibility of creating a Green Bank. All of these are priorities of FACS' in our 2020-21 Advocacy Platform.

From Passion to Action
Monday, August 3 7:30 p.m.
Join Mothers Out Front Fairfax County, 350 Fairfax, and FACS for a virtual workshop on how to convert your passion for causes that impact your daily life into meaningful actions that impact policy in a productive way. This is the first in a series of workshops and will be focused on taking action locally in Fairfax County.

Panelists Dalia Palchik, Providence District Representative on the Fairfax County Board of Supervisors, and Elaine Tholen, Dranesville Representative on the Fairfax County Public School Board, will provide a brief overview of how the Fairfax County Board of Supervisors and School Board work, including how policy is formed, discussed, agreed upon, and enacted. They'll answer the following questions:

**What responsibilities does each board have, and how do they work together?
**At what points in the governing process can Fairfax County residents provide input? What is the best way for constituents to get in touch with you?
**What resources should we be using to find out what our elected officials are working on?
**How does a school board set budget spending priorities? How can constituents engage in the process?
**What is the process for creating and adopting school district policies? How can parents best advocate for policies?
RSVP is required to receive the Zoom link. RSVP here: http://va.mothersoutfront.org/passion2action_1
Climate in the Pulpits
October 2nd - 4th
We invite all faith communities to participate in this year's Climate in the Pulpits program on or around the weekend of October 2-4, 2020, when Jewish congregations will be marking the ecological holiday of Sukkot, and some Christian churches will be celebrating the Feast of St. Francis, patron saint of animals and the natural world. The theme this year is Vote: Committing Ourselves to Climate Justice and Beloved Community.

Sign up to commit your community to raising up the importance of voting safely on November 3rd: for MLK's vision of a Beloved Community, and for leaders who will fight for climate justice.

You are invited to participate in a way that best fits your community and your current online worship format; and are encouraged to make time during online worship itself for your members to take action. More information will be available soon!
Faith in Action
Rev. Laura Martin, Associate Pastor at Rock Spring United Church of Christ, delivered a sermon for the UCC's Faith and Democracy: Get Out the Vote initiative. She spoke of the connection between voting and racial and environmental justice, and of the moral imperative to advance policies that prioritize these issues. Rev Martin advocated for devoting funds from the Regional Greenhouse Gas Initiative (RGGI), which Virginia joined in 2020, to energy efficiency improvements in low-income housing.
Excerpt from the sermon:
What is required of us?
That we see the image of the divine in one another.
That we reconcile ourselves to the environmental, racial, and social devastation that has ravaged this earth, and do the hard work of repair.
That we understand that we have the ability to make justice real, and close, and that we get there by praying, and marching, and working, and voting.
Faith Alliance for Climate Solutions
PO Box 2012 | Reston, Virginia 20195
703-239-3748 | info@faithforclimate.org